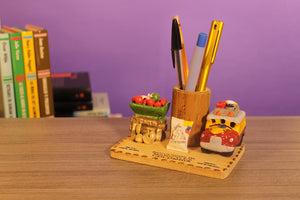 Inspiring to make your home the best reflection of who you are will be a great pleasure when you choose your favorites among these great items. Let your imagination fly and transform your home with objects like this; Watching him every day will steal a big smile.

Tradition, culture and crafts can go hand in hand with the busy life of your office. Buy one of these beautiful items and give a different touch to your desk.

Clarification
Some features of this article are not considered failures, but attributes provided by the craft's condition.

Clarification
The decorative and scenographic elements present in the photograph are not part of the product.

Clarification
The photographs are a reference of quality and style, but the final product may vary. Check availability.